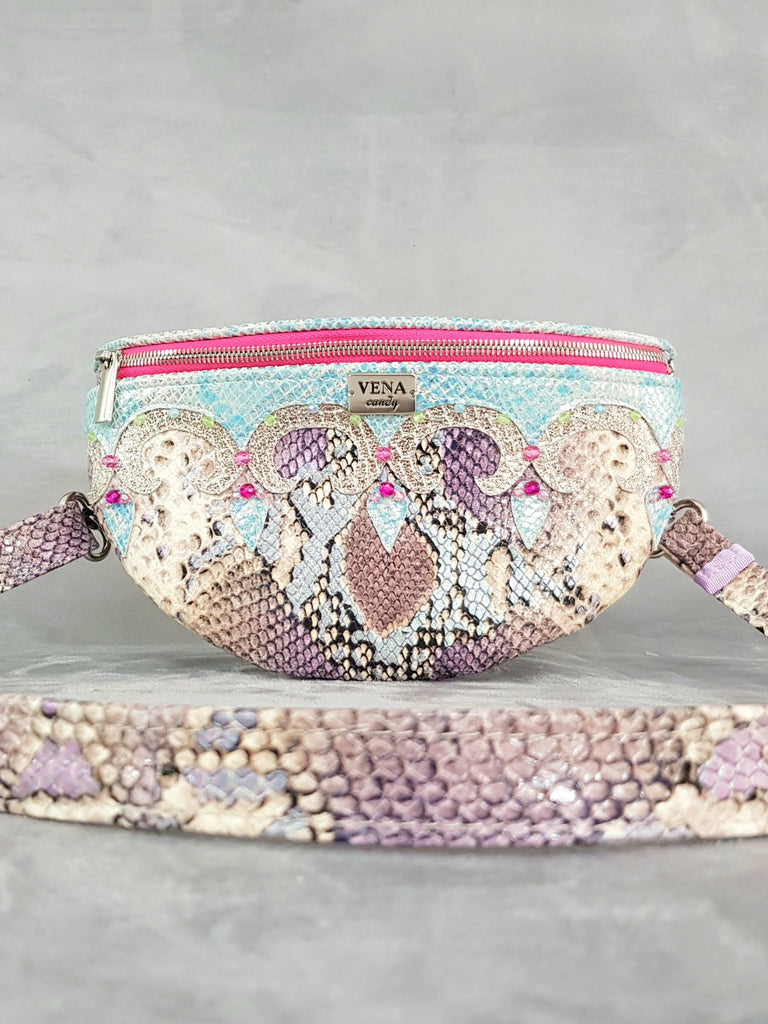 Princess State of Mind
Princess State of Mind
€650.00
 High on fun, joy, love for life and all the beauty it has to offer...
High on radical self-love, self-compassion and the desire to live your bliss
and... 
...last, but by no means least, high on that playful, shiny and colorful object you see in front of you! 
The bag can be worn around the hips, around the waist as a belt bag, or as a crossbody bag- however You like it most, or whatever suits the moment best. The adjustable strap provides options.
It is made from beautiful snake-embossed real leather in different shades of iridescent shimmering mauve that sometimes shines blue, as well as metallic light blue & and old-silver looking snake patterned goat leather - and it is embellished with beads. Like always, it is handmade, and beads are sewn on by hand.
The additional decorative layers resembling crown shapes have been sketched, hand drawn, cut and stitched on with great precision.
This bag is handmade wearable art - please treat it & take care of it accordingly and celebrate tiny imperfections (if there are any) as part of its charm.
Approximate dimensions of each Candy are: 27(l) x 15(h) x 1(w) cm OR 10.6(l) x 6(h) x 0.4(w) in.
*** The editorial clothing is also handmade by VENA candy and is available upon request.